Description
Please join us for our Orange County District Live CE meeting!
Learning the mysteries of the Craniocervical Junction (CCJ) has never been more fun!
Come see what Blair Upper Cervical is all about. Learn the history of this incredible technique, the concept of asymmetry and the research that lead to the discovery of the medullary lock theory. Study the anatomy and neurophysiology in an easy to understand review of all things CCJ. Get introduced to repeatable objective measures that will give you confidence in assessing the CCJ as well as a fascinating look into advanced imaging that will blow your mind and will take away any hesitation to understanding vertebral alignment and biomechanics. This 2 hour course will end with some incredible case studies on the power of Blair Upper Cervical.
Dinner Included with Registration!
Please register at the door if registering after 12:00 pm (noon) on 10/20.
Credits
CE CREDIT: This program has been submitted for 2 Mandated (Adjustive Technique) CE hours to the CA Board of Chiropractic Examiners.

---
Mandatory In-person CEUs
This program is approved for 2 mandated (Adjustive Technique) in-person CE hours by the CA Board of Chiropractic Examiners: CA-A-22-09-09077.
---
---
Speaker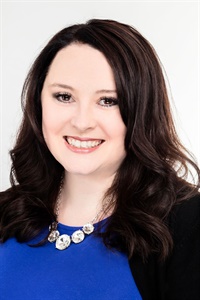 Well Connected Chiropractic
---
Dr. Elizabeth S. Hoefer (Hay-fer) earned her Doctor of Chiropractic degree, Bachelor of Science, and Associate of Science in Chiropractic Technology at Palmer College of Chiropractic in Davenport, Iowa. She is currently a candidate for a 3 year post graduate training in upper cervical procedures called the Diplomat in Craniocervical Junction Procedures, D.C.C.J.P. Dr. Hoefer is board certified by the California Board of Chiropractic Examiners, serves as an X-Ray Operator/Supervisor through the California Department of Health's Radiologic Health Branch. She also holds certification with the National Board of Chiropractic Examiners. She currently serves as the President-Elect for the California Chiropractic Association (CalChiro). She currently holds adjunct faculty status at Southern California University of Health Sciences, Life College of Chiropractic West and Palmer College of Chiropractic. Dr. Hoefer is also an advanced certified instructor through the Blair Upper Cervical Chiropractic Society and trains chiropractors and chiropractic students alike on the Blair Upper Cervical Chiropractic Technique nationwide. She enjoys traveling, spending time with her family and taking naps when time permits.
---
Cancellation & Refund Policy
Cancellation & Refund Policy:
If you do not attend a meeting you have registered for then this money becomes a donation to the OC District. There are no refunds or transfers.
Location
Avila's El Ranchito Mexican Restaurant